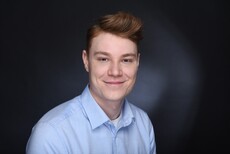 M.Sc. Tom Frank Reuscher
Research assistant

Office Hours:

Wednesday 15:30 - 17:00 (appointment via e-mail)

Room:

2A-25 (Gebäude 05.20)

Phone:

+49 721 608-42876

tom reuscher∂ kit edu
Curriculum Vitae
Tom F. Reuscher joined the Chair of Human Resource Management as a research assistant in December 2021. He is a member of the KD²School – a DFG funded graduate school associated with the KD²Lab. His Ph.D. project is on collaboration in virtual teams. Previously, he obtained his undergraduate and postgraduate degrees in psychology at Heinrich-Heine-University Düsseldorf.
His main research interests include the role of visual attention in computer-mediated social interaction and thus, eye-tracking methodology.
Conference Proceedings
Seitz, J., Reuscher, T. F., & Jacob, S. (2022). Towards an Awkward Silence-Adaptive Virtual Meeting System. 3rd Neuroadaptive Technology Conference.